James Carlson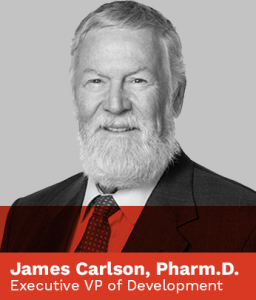 Executive VP of Development
Dr. Carlson has over 40 years in the pharmaceutical industry with expertise in product development.  He co-founded and later owned PRACS Institute, Ltd., a contract research organization contracted by the drug industry for unbiased product evaluation for FDA submission.  He expanded PRACS to include scientific affairs, regulatory affairs, bioanalytical sample analysis, data management, business development and dermatology specialties. Carlson developed one of the first electronic data capture systems to integrate all data sources to reduce time to final report. 
Carlson received his Bachelor's and Doctor of Pharmacy degrees from the Universities of Iowa and Michigan, respectively, and Clinical Pharmacy Residency from Buffalo General Hospital, NY.  Initially, he was Director of Pharmacy in the US Indian Health Service in New Mexico and Oklahoma and proceeded to Associate Pharmacy Professor at North Dakota State University.  
Carlson has authored over 70 publications and served offices for the Generic Pharmaceutical Association and the American Association of Pharmaceutical Scientists and as president and board member of local and regional pharmaceutical associations.  He has received awards locally, regionally and nationally for his professional and business achievements.